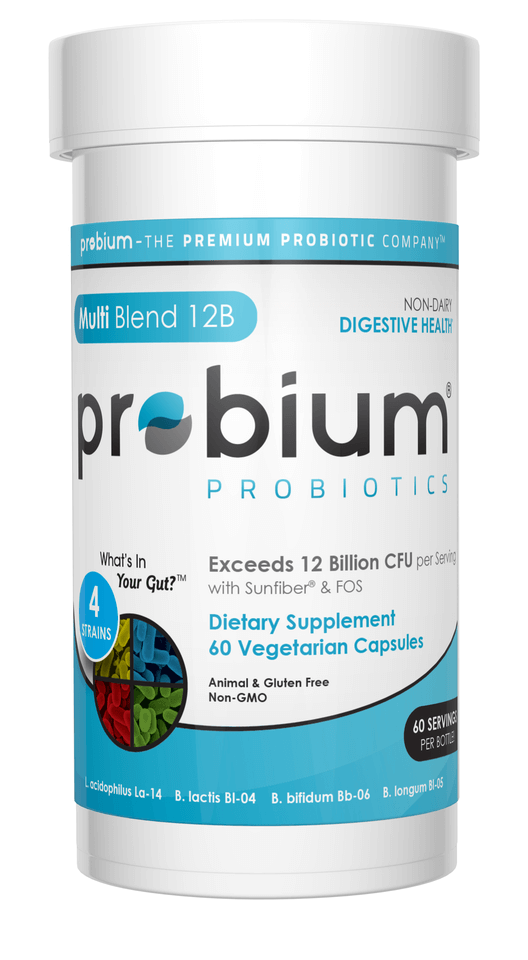 For More Information:
Call: 715-849-3801
1-844-PROBIUM



MULTI BLEND 12B
12 BILLION CFU PER SERVING (1 CAPSULE) 60 SERVINGS OF DELAYED RELEASE VEGGIE CAPSULES
PRODUCT SPECS:
Exceeds 12 Billion CFU per Serving of a Proprietary Blend of Lactobacillus acidophilus, Bifidobacterium lactis, Bifidobacterium bifidum, and Bifidobacterium longum.
Other Ingredients - Sunfiber® (Partially Hydrolyzed Guar Gum), Fructooligosaccharides (FOS), Vegetable Powder, Silicon Dioxide and Vegetable Cellulose (Delayed Release Capsules)
12 Billion Active Microflora per Serving (1 Targeted release Veggie Capsule)
Store at Room Temperature, no refrigeration necessary.
Non-GMO, Gluten Free, and Non-Dairy
No Maltodextrin, No Magnesium Stearate, No Soy, No Sugar, No Wheat, No Eggs, No Salt, No Animal Derivatives, No Artificial Flavors or Artificial Preservatives
Kosher Certified
Made in Wausau, Wisconsin, USA
Digestive Health**
SUGGESTED USE
As a dietary supplement, take 1 capsule per day, preferably in the morning on an empty stomach or as directed by a healthcare professional.